Comwatt Power
Our offer that is all about solar self-consumption
Produce and use your own power thanks to our smart management of energy consumption
Produce and use your own power
Our offer for a hybrid self-production with a smart management of the electrical grid and without any batteries will help you lower your energy bill by up to 70% while remaining connected to the public network.
Display of your power usage, for the entirety of your home as well as per device
Remote control of your devices via your smartphone, tablet or computer
Real time smart notifications for unusual and abnormal amounts of power usage
Automatic management of your device's consumption while in standby mode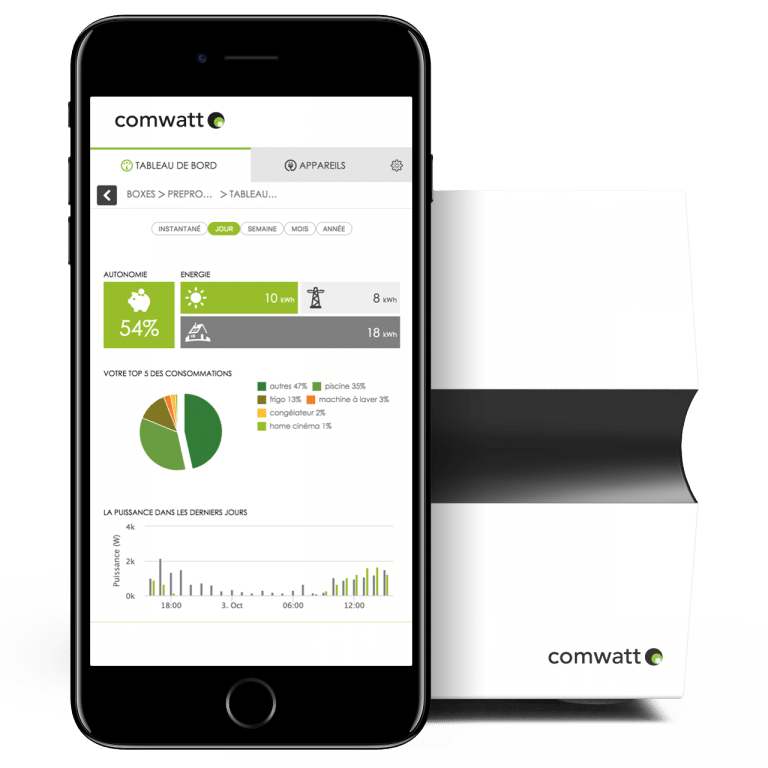 Management of the sporadic production of renewable energy
Prioritization to consume locally-produced energy
Smart planning of your devices' consumption, to make them use the energy at the right time
Access to the Comwatt users' community, to share your power consumption levels and compare it with similar users so you can all find how to best manage your energy
If the panels do not produce enough energy, it is the public grid that provides the missing energy, without loss of comfort. And rainy days … free cleaning.
Save up to 50% with solar self-production
The energy consumption is directly connected to the building's photovoltaic system, so that you use the energy you produce. The system stays connected to the grid in case you need to buy some extra electricity to sustain the building's power needs.
Add up to 20% to your savings by using active efficient energy use
It means optimizing your energy consumption by getting rid of energy waste, through managing your energy usage and controlling your electricity-consuming devices depending on your power usage.
The Comwatt Power offer acts like a "dip system", offering energy only when needed, without any waste.
If I do not install solar panels, can I still reduce my bill?
In this case, you can reduce your bill by up to 20%.
You're making savings. But you have to take the lead with the management no?
No. The initial configuration and use are 100% automatic. I still have time for music!
Easily lower your consumption
With the active efficient energy use, the Comwatt Power system self-learns your lifestyle habits.
At the same time, it analyses your consumption and adapts itself automatically to your power usage all the while helping you save money and energy.
Quick to install and without any work needed, it's suited for any type of building:
Comwatt Power is a Plug and Play system, meaning that you just need to plug it in and it starts working after a few seconds.
It does not require any modification of your electrical system, and our tested standard wireless communication service can be quickly installed.
This is a solution reserved for new housing?
No. The solution fits all types of housing, new or old. And he moved without work in 30 minutes.
Who will provide me the equipment, the services and the bank loan?
To simplify the life of the customers, your installer will propose you a complete kit and without surprises.
A ready-made kit
Produce and use your own electrical power easily thanks to a ready-made kit which takes less than an hour to be installed and which can reduce your energy bill by up to 70%.
Get your personalized, free-of-commitment simulation in just 1 minute